Here are some of the ways Salem is involved in the wider community.
Meals for Seals
Helping to provide weekend meals for children in Selinsgrove School District. All items must be "kid-friendly" and easy to open. Suggested items include:
Oatmeal packets, small boxes of cereal, granola bars, cheese and cracker/peanut butter cracker packets, cup of soup, easy mac and cheese, beef ravioli, tuna, chicken, applesauce, pudding, fruit snacks.
Quarter and a Can
Quarter and a Can happens several times throughout the year. People bring both a quarter and a non-perishable food item to the church service. The donations are then distributed to local food banks like the Kitchen Cupboard in Selinsgrove.
Alcoholics Anonymous
Two alcoholics anonymous groups meet here at Salem in the School House.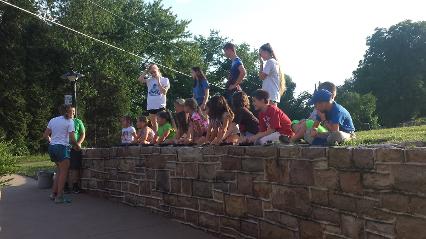 Vacation Bible School
Each summer, Salem holds a week-long evening Bible school. Counselors from Camp Mt. Luther join us for a fun filled week. Together we craft, sing, play and learn! Watch for information about this summer's activities
Military/College Packages
Periodically, a group of Salem volunteers gets together and assembles packages that are then shipped to college students and soldiers affiliated with the congregation. These packages usually consist of food, food, and more food, and sometimes extra little surprises are thrown in as well, especially around the holidays. The recipients are always more than thrilled to receive their packages!
Military Share Food Bank
Salem Church is joining the American Legion Auziliary in supporting Snyder County Veterans in the new program, The Military Share Food Bank for Veterans in Snyder County. Donations can be made in the "Fish Bowl" at the back of the church. All donations remain in Snyder County to help our local Veterans.